Celebrating 600 Years Of Unapologetic Beauty
PERANAKAN MUSEUM
600 or so years ago, the first would-be Peranakans arrived in Southeast Asia. Unlike the immigrants of stereotype, they were neither quiet nor conformist. Their culture was loud, colourful, exuberant and hybrid. They blended Javanese patterns, Chinese ceramics, Malay flavours, European materials, and so much more.
However, with the passing of time and the success of one-too-many Peranakan soap operas on TV, the culture began to feel a little 'period'. Many now see them not as a living culture, but as a one-dimensional caricature. A refreshed and contemporary brand identity was needed, to help audiences rethink what 'Peranakan' could be.
To do so, we drew inspiration not just from their vast material culture, but also from their spirit. Instead of merely celebrating what they created, we made the Peranakan attitude the heart of the brand, celebrating the creativity that built a world of 'Unapologetic Beauty'.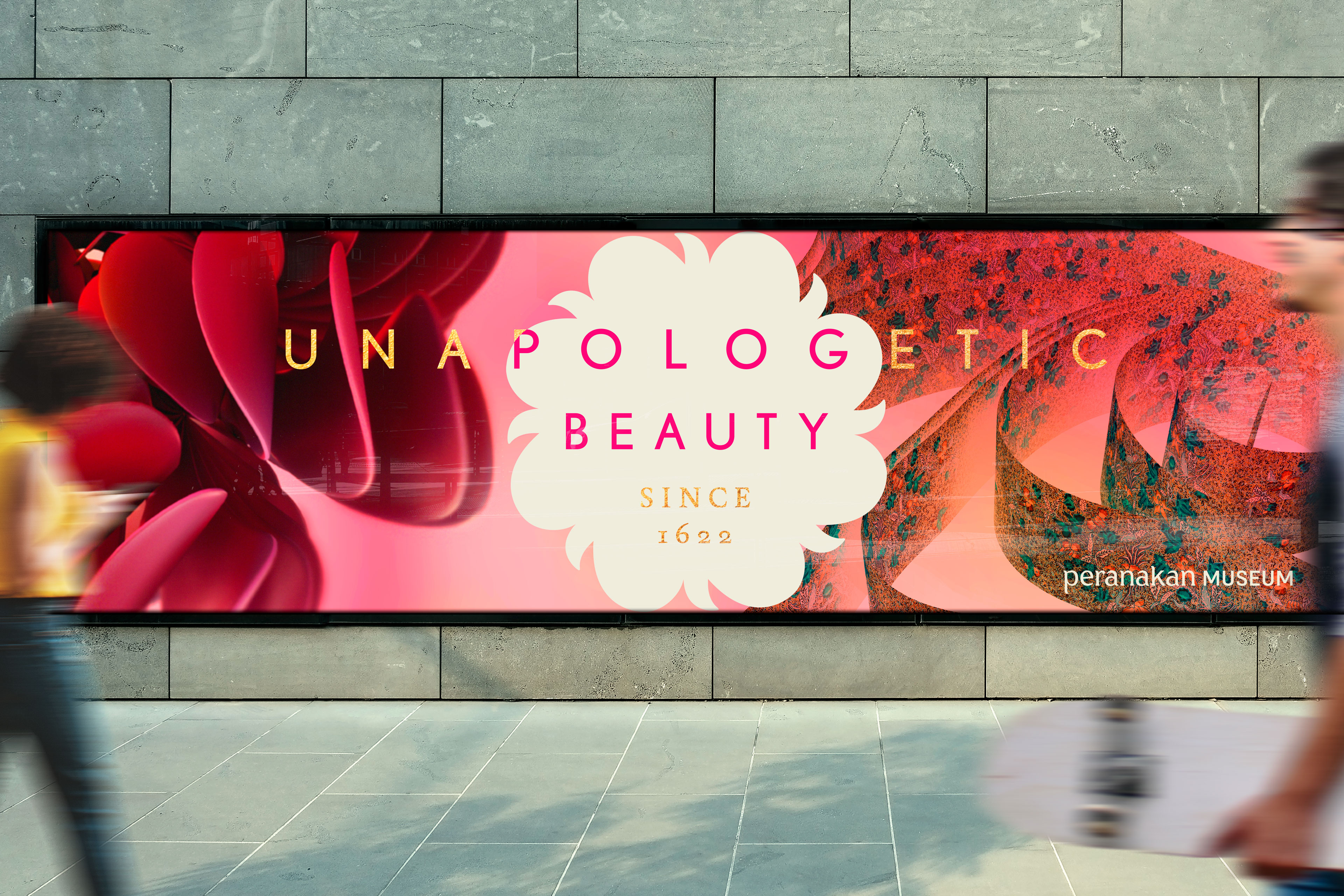 The core brand idea 'Chelop' – which means 'to dip into' in Peranakan Malay – is both an essence and an invitation. It represents the act of throwing oneself head-first into another culture for the purpose of reinterpretation. We did just that with the Museum's 5000-plus-strong collection of artefacts, documents and verbal histories, diving deep to build a multimedia library of patterns and motifs, informed by the crafts (tiling, adorning) and the creations (food, textiles) of Peranakan culture. Updated for the new world of social media, projection mapping and more. This graphic system is a shorthand for the maximalist leanings of the Peranakan Aesthetic.
To give form to this over-the-top world, the 'P' letterform of the PERANAKAN MUSEUM wordmark was evolved into The Museum Peony. It serves as both a symbol of the community's multiplicity, and as a graphic identifier for all brand touchpoints. The result is an explosive and visually arresting brand world which brings together both old and new in a riot of audacious beauty – to release Peranakan culture from the confines of history so it can inspire a new generation of makers, rebels and creators.